Book 3
The Queen 'twixt Two Realms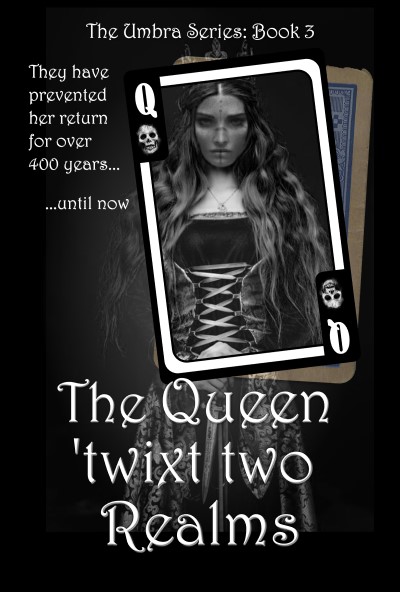 Death waits in London
London was meant to be a haven for the remaining Gracegirdle sisters, safe from the perils of the Fens. But Sebastian Stanton fears he reached them too late. Even their rich aunt's fortified house cannot keep all their enemies at bay. It is less a place of sanctuary and more a porous prison.

Meanwhile, in the Citadel of False Sorrows, Umbra lords and ladies are celebrating. They believe that they have successfully killed both the main contenders identified as the returning Queen. More than that, they know her nefarious Hedge Treaty is being nibbled away by Wolfs Head moth caterpillars. There is little or no time to prepare a new candidate.

What they do not know – and little care – is just who it was that unleashed Amorrie's death into their Realm to track her down and let her feel its sting.

Chapter 1
The Fenland Succubus
Sebastian Stanton sat behind his small desk in the tiny office they had found for him in Westminster. He had been back in London for less than two weeks.
Beyond the quiet of this room, everything at Westminster was bustle and endeavour. Britain was at war with France. Troops were mustering, ships were being readied, alliances brokered and war-hardened Umbra consulted. Stanton was not involved in any of it. The Earl of Grenville, Minister for Retaliation, was in charge of military preparations and he claimed Britain's best chance of overcoming France in the forthcoming war lay in keeping Stanton far away from it.
Stanton had nothing to do. He had only come into Westminster because of a curt message informing him he had an appointment. It didn't specify who with.
He did what occupied him most of late; dwelt on the state of his marriage. He'd had no news from his wife since he'd been back in London. The last short note, purportedly from Isabella, had been delivered by an Umbra.
Stanton increasingly mistrusted the message. The fae creatures didn't usually act as mail-men and this particular Umbra was reputed to be flighty to the point of madness. By the time the note reached him, he had already failed in the service Isabella had begged from him.
He knew Isabella was having her portrait painted by the fawning Arthur Tenebris at Netherwyck, her family's Dorsetshire estate. Among the other guests staying at the isolated coastal house was Isabella's first love – most likely, her true love – her childhood family friend, Viscount Exeter.
As a young girl of seventeen, Isabella had written to Exeter professing her affection for him. Stanton knew now that her sentiments would have been reciprocated, but the message had never reached Exeter. A jealous Umbra intercepted the letter and then acted to poison the Viscount's mind against his young admirer.
Isabella blamed her Umbra, Twoshrews, for the deceit but Stanton wondered if Exeter's Umbra, the capricious and vengeful Muscari, wasn't a more feasable suspect. Whichever was culpable, he knew that he had met and snared Isabella in the aftermath of Exeter's feigned disinterest in her. Perhaps, Stanton thought, he had always known that Isabella wasn't destined to be his.
Read whole chapter