Book 2
The Queen 'tween the Tides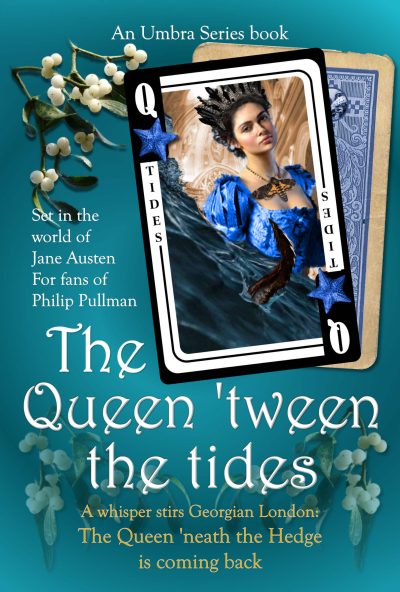 The Hunt for the Old Queen
1793, and London is alive with talk about the inevitable war with France, but there's another darker rumour: the Queen 'neath the Hedge is near ready to return.

Almost 500 years, ago as a young girl, she conquered Britain and the Other Realm – the shadowy world of the Umbra. She fought against Edward Longshanks, battled powerful Umbra rulers to submission and forced them to ally to her. But, when she won the dread, plague-riddled Greynhym to her cause, all were forced to surrender.

Is she returning? Pitt's Government dismiss the rumour as 'myth and radicals', but Sebastian Stanton knows young girls and Umbra will be murdered if suspicion falls upon them. There is a conspiracy. It lies at the heart of power in both realms, for none want to be ruled by a medieval warrior queen.
Chapter 1
The Mist-hung Nymph
The three new passengers huddled into the coach seats. Arthur's coach had picked them up from beside their overturned carriage two miles beyond Swanage. To Arthur's inexpert eye it looked as though their carriage had stumbled off the contorted, rolling road in a thicker swirl of mist and thrown a wheel. It canted at an awkward angle and blurred shapes of mist-men were working on it.
Even upended and smoked with sea fret, the carriage reeked of money.
Arthur's own journey had begun four days earlier from London on a crowded stage coach. This last day from a coaching inn at Lytchett Minster to Swanage had been slow progress on corrugated roads, slicked by frost. At Swanage Arthur had reminded the driver of his need to go onto Netherwyck. The man's face set as bitter as the weather, but his employers had an agreement with Lord Lisle to ferry his guests the four miles beyond Swanage to his estate when need arose. It was an agreement made for summer, not for fading afternoons of frost, fret and scant visibility, but Lord Lisle had not taken his household to London this winter. The driver and his guard had been looking forward to an early start in the ale-houses of Swanage and made their discontent known.
They had come upon the overturned carriage on a lonely stretch of road before Langton Maltravers. Branches of spectral beech trees overhung the road, their trunks fading in and out of view with the churn and coil of the mist. The calls of lost birds wished an end to the afternoon.
Arthur's coach picked up four in all: two young women, disguised in borrowed great coats that looked to have been lent by portly Russian generals, and one gentleman, in a frock coat and thick breeches. His clothes spoke of quality, even down to the scarf he had wrapped around his features to keep out the cold. The fourth, presumably a servant, had climbed on top of the coach.
'We are very pleased to find you on this road, sir.' One of the women addressed him through upturned collars and chattering teeth. She sounded young but confident. 'We did not expect any others to be travelling to Netherwyck on such an afternoon. We must save introductions until we are safe there and warmed before a fire.'
Read whole chapter